With Afternoon Tea Week starting next week, yes NEXT week I thought it important to give you all the heads up, well who doesn't love a great afternoon tea!  From the 8th to the 14th of August it's officially Afternoon Tea Week 2016 and I am sure like me you are all extremely excited.  To mark the occasion I decided that the celebration of one of Britain's favourite traditions should begin early and booked via the Buyagift website to indulge in a delicious afternoon tea.  With numerous fabulous choices I must admit it took me ages to decide which to choose as frankly they all looked very delicious and I am easily distracted by pretty pictures of food, aren't we all?
Buyagift is the UK's leading online gift experience provider and is one of the official sponsors of afternoon tea week.  They offer over 250 different varieties of afternoon tea with locations all over the UK.  Options range from afternoon tea at the iconic Harrods' to chocoholic afternoon teas at the Hilton Park Lane and also Hotel Chocolat.  Prices start from a mere £17 for TWO people.  Well i'm sold sign me up for one each day for the next month, in my dreams. There are up to 148 locations which makes it so simple to get booked in locally or further afield should you so wish.
Here are just a few of the teas you can choose from.
Afternoon Tea Cruise on The Thames for Two, £64
Pass under the magnificent Tower Bridge, see the buzzing Southbank, marvel at The Shard and gaze up at Big Ben from the river – all the while tucking into delicious sandwiches, scones, pastries, and refreshing tea for two! There's no finer way to see London than whilst bobbing along on the River Thames. Background music is provided by a pianist tinkling the ivories as you cruise along this world-famous river, taking in the sights whilst being served traditional treats and a pot of tea. Don't forget your camera, as this river cruise on the magnificent Harmony affords incredible and unique views of London landmarks.
Champagne Afternoon Tea for Two at the Cake Boy Emporium, £80
Celebrity chef Eric Lanlard, the Cake Boy himself, has conceived a mouth-wateringly fabulous cake boutique, in the heart of London's Battersea, by the banks of the river. With a trendy yet relaxed vibe, this quirky pleasure emporium is the perfect place to while away an hour sipping on organic tea or coffee, and tucking into such sweet delights as petit pains, mini pastries, French macaroons, and delicate fruit tarts. There are scrumptious sandwiches as well, to satisfy your savoury tooth, and you'll each enjoy a glass of Champagne to help you celebrate the occasion.
Afternoon Tea for Two at Harrods' Georgian Restaurant, £88
Harrods is an iconic London institution, famed for its high-quality products, elegant settings and faultless service; its Georgian Restaurant boasts all three and has been satisfying customers since 1913. Recently refurbished, the decor combines the elegance of 1920s and 30s fine dining with modern elements; the restaurant itself is a work of art and a feast for the eyes as well as the stomach. You will be met by staff and seated at an impeccable table before being served a luxurious version of the quintessentially British treat: a range of finger sandwiches, tea pastries, fresh scones with clotted cream, fragrant rose-petal jelly, tangy lemon curd and sweet strawberry preserve. These will be accompanied by the unlimited loose-leaf tea of your choice, to be taken from Harrods' extensive menu; including the finest teas from around the world, each blend on offer has been specially selected by Harrods' tea experts.
My choice:
Champagne Afternoon Tea at the Waldorf Hilton (London)
This was £105 but has now been reduced to £69, how fabulous and a bargain to visit such a prestigious and historical location.  The afternoon tea without Champagne price has gone down from £87 to £49.
Booking is simple you are set a voucher through the post or you can arrange an e-voucher which is a great idea for a gift, hint hint (I'd love to going again).
The staff were very attentive and this chap was keen to pose for a quick photo before rushing off to attend to other guests.
Doesn't the room look beautiful! with it's original chandeliers, pretty coving and pillars.  I loved that it was so bright and spacious with comfortably spaced seating.
At the door we gave our booking number and were shown to our seats.  Playing in the background, classical instrumental music to set the scene and helping to create a relaxed atmosphere.  A mix aged clientele busily chatted amongst themselves whilst sampling the delectable delicacies laid before them.
The Menu looked very appetising and of course we watched the serving team as they flitted too and fro from table to table with their delicious looking selection of sandwiches, scones and pastries.
Here there was no need to rush to eat or drink.  I had left the children in safe hands as I wanted to eat in a relaxed manner and enjoy a drink hot, yes hot tea (all mothers out there will understand exactly what I mean and how pleasurable an experience that truly is).
Tea was served, my friend had opted for The Waldorf Tribute Blend which she enjoyed immensely.  I requested the Jasmine Petals and Pearls, a delicious floral tea.  How pretty does the tea look!
Glass of Mumm Champagne?  Go for it, you really shouldn't refrain from trying this as it's a really nice one and you don't do afternoon teas everyday.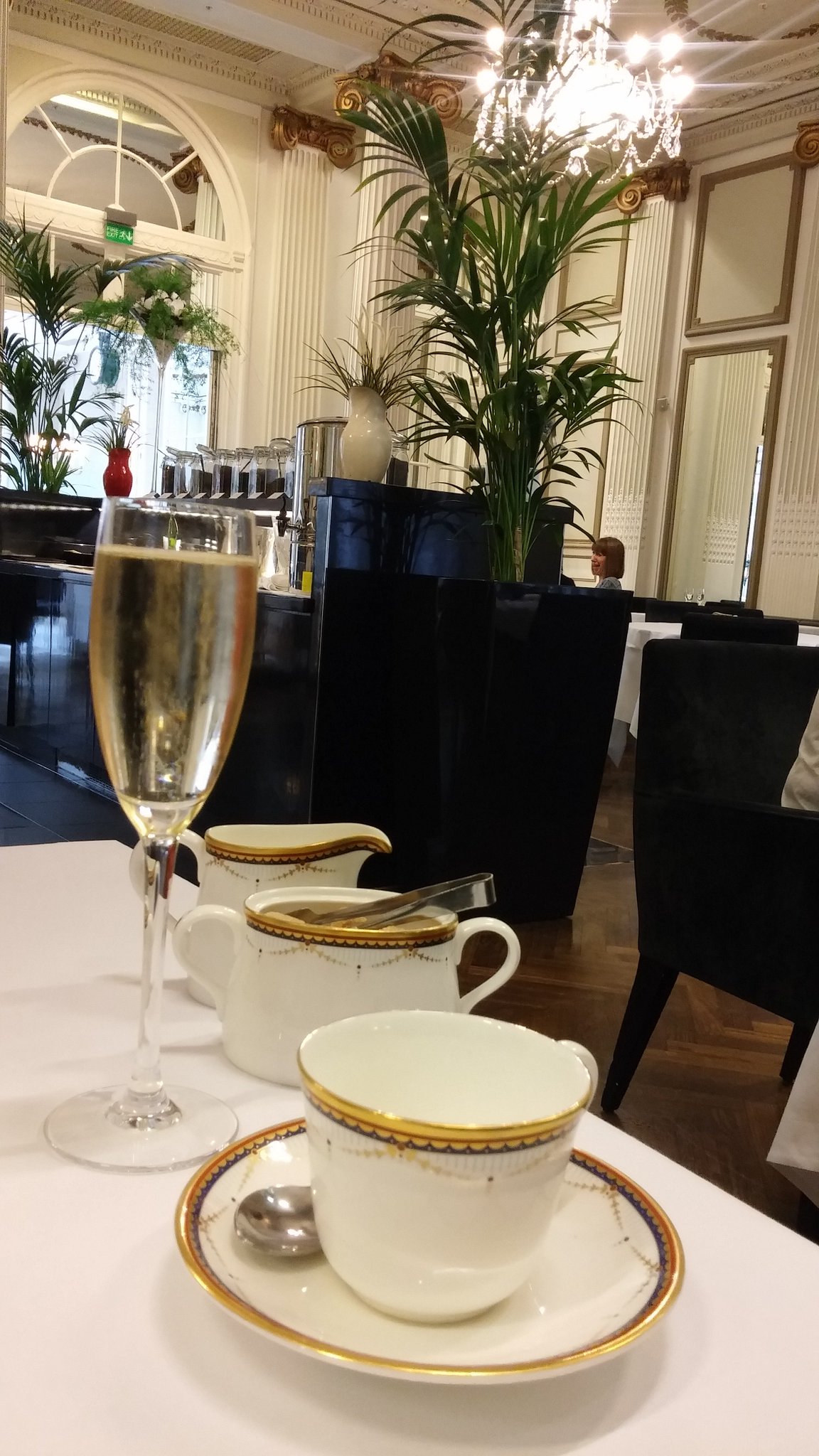 By the time the food arrived I must admit I was starving.  I hadn't eaten all day as I had been running around after the children.  Everything looked so beautiful and we couldn't wait to tuck in!  The afternoon tea is served on a three tiered stand made from handmade Royal Crown Derby fine bone china the company who also supply the Royal Household with china.  Touches like this make the whole event that little bit more special.  Who can argue with lovely surroundings, attentive staff, great crockery and not forgetting beautifully prepared sandwiches and sweet treats.
Everything looked so pretty, it was like a culinary work of art.
Savoury first.
The smoked salmon sandwich that one would normally expect in an afternoon tea was substituted for rolled smoked salmon with chive infused cream on a pumpernickel disk an unusual change to the norm (I wasn't sure about the pumpernickel working so well but the salmon and cream cheese was nice).  My favourite was the coronation chicken.  This was simply divine and extremely flavourful and I could have easily eaten a few of the same.  The sandwiches were made with fresh, soft fluffy bread prior to serving.
This was followed by the warm homemade scones with clotted cream and preserve.  The scones were lovely and crumbly and were very much enjoyed with the tea.  The tea was great to clear the palate between samplings as well as being very refreshing.
The gorgeously presented pastries were next.
I will confess to have started feeling a little full part way through these but they looked so pretty I had to try them all, it would be  a crime not to.
My favourite was the coffee mousse cake.  This was smooth, sweet and delicious and perfect for my sweet tooth.
What can I say this was a fabulous afternoon tea and a pleasure to try.  I strongly recommend visiting the Waldorf Hilton and trying their afternoon tea as it really is delicious and filling.
Fancy Afternoon tea at any of the locations mentioned above or any other Buyagift.com location?
In celebration of Afternoon Tea Week Buyagift.com are offering an exclusive press discount of 20% off all afternoon teas on the Buyagift.com website from 8th– 14th August off some already discounted prices, your readers will simply need to enter AFTERNOONTEAPR at the checkout.
Exclusions apply. Offer available from 8th-14th August 2016.
The afternoon tea was complimentary thanks to Buyagift.com but all views are my own.